<![if !vml]>

<![endif]>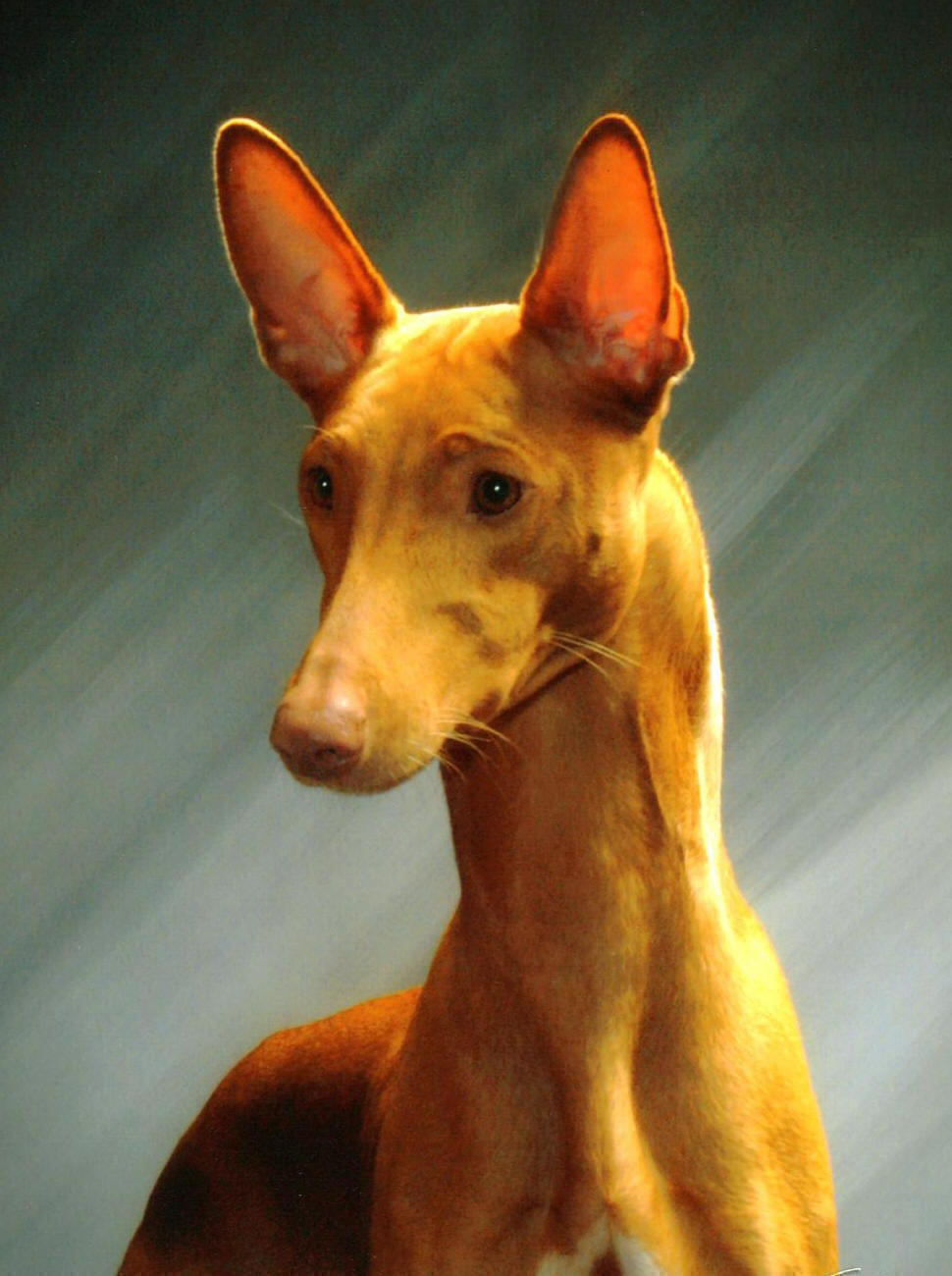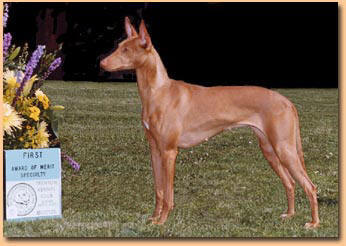 UKC-Reserve Best In Show, UKC-Champion, CKC Champion
AKC Group Placing, AKC DUAL Champion, Multi-Award Of Merits
Sunwinds Sovrin Scheherazade
SC RN JOR ORC GRC ORM HIC ROMX VC FCh CGC (CHIC)
(Ch Enigma Sovereign Journey x DC Khufus Navidad Sunwind SC)
Breeder: Judy Rucker (Sunwind Pharaohs) and Betty and Gordon Davis (Khufu Pharaohs)
Date Whelped - March 19, 2001
10 Generation Inbreeding Coefficient = 5.2% (n=1734)
6 Generation Inbreeding Coefficient = 0% (n=127)
Hips - OFA Good
Elbows - OFA Normal
Knees - OFA no patellar luxation
Dentition - Complete
Thyroid Level - Normal
Eyes (CERF) - Normal at 4 yrs of age (prior to 1st litter). Normal (at 12 yrs of age).
Allergies - None
Height: 24 inches
Weight: 51 pounds
Diet - Raw (Whole-Prey Model) - 2nd Generation
Vaccinations - Minimal, Titer tested except for Rabies (given every 3 year)
Microchipped - Avid Euro
Spayed
CHIC Number- 91003
Stats thus far...
AKC Coursing: Field Champion; 13 LCX points, 16 MC qualifying scores
LGRA: Gazehound Racing Champion (GRC); 9 points toward SGRC
NOTRA: Oval Racing Champion (ORC); 8.33 points toward SORC
ASFA: Field Champion
CARA Straights: 31.25 points toward RChS, 2 full and 3 restricted legs toward SRM
CARA Ovals: Oval Racer of Merit (ORM); 30 points toward RChO
CSFA: 14 points and all placements toward FCh
Rally: RN; 0 qualifying scores toward RA
CHIC Number - 91003
What can I say about this wonderful girl? Phlirt is my second Pharaoh hound and the foundation bitch for CharmedWons Pharaohs. She has been a part of my family and my heart since June 2001. She is a joy to live wiHer accomplishments are many and she continues to strut her stuff. Her favorite pastimes are as an avid hunter patrolling the backyard for critters or just lying out in the sun just watching her kids and grandkids. She is a wonderful brood bitch with her puppies and she has produced wonderfully versatile pups. Phlirt is now retired as she has nothing left to prove to anyone. Her pups have done her proud and made Phlirt an ROM in May 2008 and an ROMX in . August 2011. She also has her CHIC as of July 2013.
Phlirt's accomplishments:

Earned 1st Award of Merit at two consecutive PHCA Eastern Specialties (2002 and 2003) completely owner handled.

At an all-breed UKC show, Phlirt was Reserve Best In Show.

1st Sunwind's Racing Champion - oval and straight.

Phlirt earned both her Oval Racing Champion (ORC) title and her Gazehound Racing Champion (GRC) titles against excellent competition. She is one of only 7 PHs to earn both titles and she is the 4th PH bitch to earn both titles.

1st Sunwind Pharaoh hound to earn a Group Placement at an all-breed AKC show, earning a Group 3 the day she completed her breed championship - owner handled.

1st Pharaoh Hound bitch to earn a racing title in Canada.

Whelped her first litter of 7 puppies on August 25, 2005 at 4.5 years of age. Excellent maternal instincts!

Earned her Basic Herding Instinct Certification at the 2007 National in Perry, GA at the age of 6 years.

Earned her Canadian Breed Championship title in June 2007. She also is awarded BEST Brood Bitch IN SHOW at the Southern Counties Hound Specialty Show in Ontario, Canada.

Whelped her second litter of 3 puppies on January 14, 2008 at 6.8 years of age. She is a great Momma.

Phlirt earns her Register of Merit (ROM) in May 2008. Special thank you to all the owners of Phlirt's puppies.

Phlirt earns her Rally Novice (RN) obedience title and becomes qualified for Versatility Certification (VC) in June 2008.

Phlirt is only the 3rd Pharaoh hound to earn both ROM and VC.

Dogs In Review: 2007 #1 AKC Pharaoh Hound Dam

Phlirt earns her ASFA FCh title on Sept 27th, 2009 at the age of 8.5 years. She loves chasing the bunny.

Phlirt received her ROMX title at the awards banquet as part of the PHCA National Specialty weekend in August 2011. Phlirt is only the 3rd bitch in PHCA history to earn this.

Phlirt gets her CHIC number in July 2013. She is the only ROMX Pharaoh hound with a CHIC.
Phlirt's kid's accomplishments thus far: [Two litters of puppies (Aug 2005, Jan 2008); 10 puppies; 9 puppies surviving puppyhood.]

7 AKC Championship titles earned (3 pups earning 4 majors and 2 pups earning 3 majors)

4 AKC Field Championship titles earned

3 AKC Dual Championship titles earned

8 AKC Junior Courser certifications earned

5 AKC Senior Courser certifications earned

2 AKC Master Courser certification earned

2 AKC Best In Fields earned

1 AKC CD title from Novice Obedience earned

4 AKC Rally Novice Obedience titles earned

2 AKC Rally Advanced Obedience title earned

4 AKC Canine Good Citizen certifications earned

3 ASFA Field Championship titles earned

2 ASFA Best In Fields earned

7 UKC Championship titles earned

3 Herding Instinct certifications earned

1 PHCA Versatility Dog certificate earned

1 PHCA Versatility Dog Excellent certificate earned.

LGRA # 1 Pharaoh hound for 2006, 2007, 2008, 2009 and 2010

1 AKC Novice Agility Jumpers with Weaves title earned.

1 AKC Novice Agility title earned.

1 AKC Open Agility title earned

1 AKC Open Agility Jumpers with Weaves title earned.

3 Gazehound Racing Champions

2 Superior Gazehound Racing Champions

2 Junior Oval Racer titles earned

1 earned a Bred-By Group 3 Placement at an all-breed AKC show

1 earned a Adult Best In Show at a Match

PHCA Specialties/Supported Entries:

2006 Eastern Specialty: Winners Bitch - Phancy (owner handled);

2006 National Specialty: Best in Puppy Sweepstakes AND Hound Sweepstakes Group 3 - Phoenix (breeder-owner handled)

2007 National Specialty Weekend (day preceding National): Winners Bitch - Phoebe (breeder-owner handled)

2008 Eastern Specialty: Winners Bitch - Phaith (breeder-owner handled)

2008 National Specialty: Best of Opposite Sex - Phancy (owner handled)

2009 Eastern Specialty Weekend (day preceding Eastern): Winners Bitch - Phaith (breeder-owner handled)

2009 Supported Entry at HRVHA: Winners Bitch - Phaith (breeder-owner handled)
<![if !vml]>

<![endif]>
Phlirt's family (click here for pictures of Phlirt's ancestors)